Adding compelling video into your existing Martech, Sales or HR Stack has become a whole lot easier with the launch of our new Zapier integration.
Whether it's sharing testimonials with your Sales team within SalesForce, collecting video responses as part of your recruitment workflow in Workable or adding respondents as leads in Hubspot or Marketo, our new Zapier integration provides a code-free way of adding Vouch to your existing workflows and tools. 

What is Zapier?
Zapier is an online automation platform that allows you to quickly and easily connect all the apps you already use with no programming knowledge required.
These 'connections', which are defined by a set of triggers and actions are called 'Zaps', and tell the tools where and when to send data.
The Vouch x Zapier integration offers both Triggers and Actions relating to the app, providing complete flexibility around where it sits in your automation flow. 

What can I connect?
With more than 3,000 pre-built connectors available, there is almost no limit to how you may decide to integrate Vouch into your existing workflows, but to help get you started, we have pulled together what some of the popular uses from our customer community:

Sharing Vouches in Salesforce
The best place to share Vouch responses with your Sales team is within the tool they're using every day and are familiar with.  With Zapier and Vouch it's possible to store Vouch responses in your Contact and Opportunity records within the Platform, so they are easily available for a rep to share with prospects they're trying to close.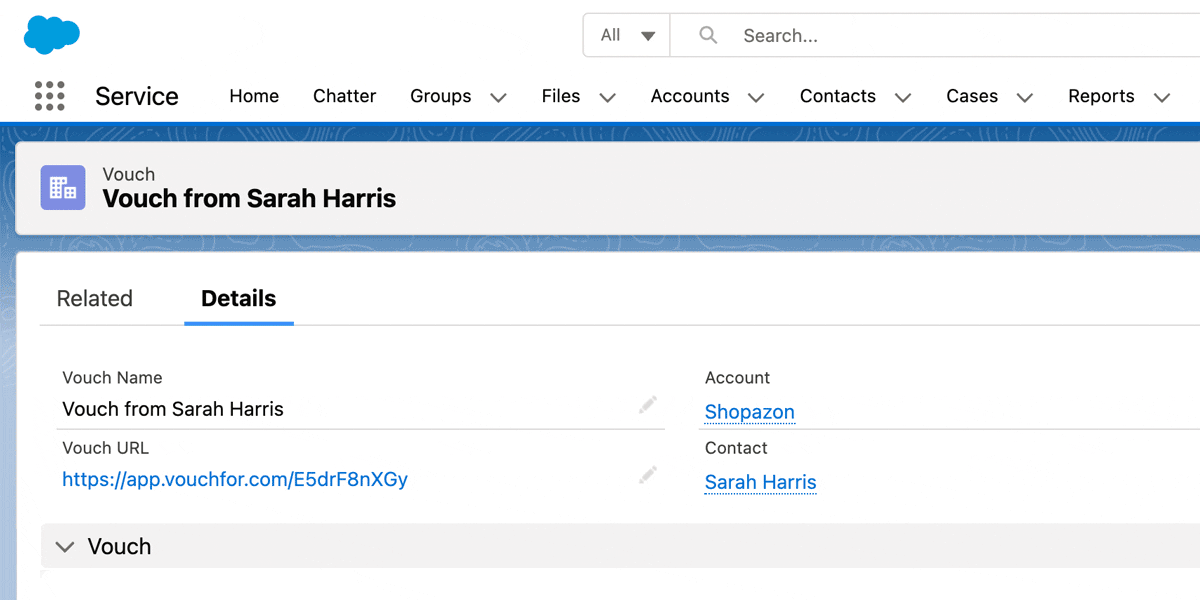 Add Vouch to Recruitment in Workable
Streamline your recruitment funnel within Workable by adding Video Questions to the start of the recruitment process.   With Zapier and Vouch, it's possible to automatically add a Candidate to one of your Job listings once they have completed a Vouch. 
Push Vouch Notifications to Microsoft Teams
Push notifications are a really helpful way to get real-time alerts for the activities that matter to you and your team. With Zapier and Vouch, you can receive 'real-time' updates whenever a new Vouch response has been received. 
Add Subscriber to Hubspot or Marketo
Collecting Vouches through Campaigns? Then this is a perfect opportunity to collect quality Leads and add them to your existing Customer Engagement Platforms like Hubspot or Marketo.
How do I get access?
Vouch Enterprise Customers can simply install the Vouch Zapier integration via the Apps menu on the Vouch Admin User Interface.
Forever Free customers who want to add Zapier to their account can simply reach out and a member of the Vouch team will help get them started. 

What if I want something custom?
If our Zapier integration doesn't solve your needs, or you want to build something yourself, Vouch offers a suite of RESTful API endpoints and Webhooks which provide the tech to create something fully customized.
To find out more, get in touch today.